For over 25 years, Farm Country Cheese House has created fresh, antibiotic-free, artisanal cheeses.  Our culture is supportive and kind, and we work together with the local Michigan farmers to bring the highest-quality and freshest cheese to you!  We use milk made by cows that are naturally raised and antibiotic free, with absolutely no artificial hormones introduced in their diet.  Farm Country Cheese House is proud to say we support Michigan Family Dairy Farms, and the dedicated employees that work at the cheese house.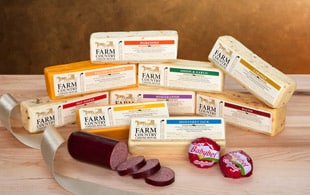 We source all milk from family farms across Michigan, overseeing the nutrition of the cows to ensure the best product possible. At Farm Country Cheese House, our quality standards are extremely high. We believe in a truly clean process, from farm to table. This means no additives. All featured cheeses are natural, free of added hormones, and antibiotic-free,  Our process is rooted in traditional methods with no machines. Our cheeses are all handcrafted by our head German cheesemaker, crafting small batches by hand from our own starter in-house. This is a timely and expensive process, but it is also what gives our cheese distinct consistency and creaminess… and we are sure you will agree!
"Ohmigosh. I LOVE this cheese!!! Absolutely addictive! Creamy crumble with a subtle bite like cheddar. In fact, I thought it WAS cheddar! My new fave. I need to stock up, but it also makes me want to try all your cheeses!"
We ship gift boxes anywhere in the United States.
Over 20 traditional and distinctive varieties of cheese
Watch cheese being made daily Mon-Fri from  9 am to 2 pm
Primary Communities Served
Lakeview | Howard City |Big Rapids | White Cloud | Barryton | Rodney | Evart | Reed City | Ashton | Chase | Idlewild | Brohman | Hesperia | Fremont | Newaygo | Grant | Oxbow | Trufant | Maple Hill | Coral | Baldwin | Grant | Remus | Stanwood